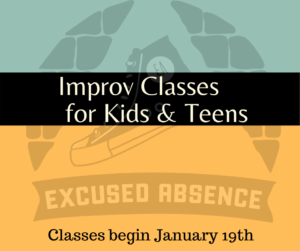 Move Your Tale & Excused Absence Comedy at ColdTowne Theater offer a variety of classes from preschool through high school.
Spring 2020 Session begins January 19th
Excused Absence at ColdTowne Theater offers weekly improv classes for kids, teens and families.
Weekly Classes are organized by age, interests and experience levels. All students have the opportunity to perform at our Sunday, ExAb Night shows.
Choosing the right class for your child:  Though suggested ages are listed for each class, we are all more than just the sum of our experience. If the age group or level you enroll your child in isn't a good match, switching sections is often an option. Feel free to contact us at 512 809 0017 or moveyourtale@gmail.com if you have questions or concerns.
Tween & Teen Classes
 Please note, depending on the individuals enrolled, middle and high school classes will be divided or combined as best serves the group. 
Sundays, 3 to 4:30 pm, January 19 – May 3
Teen.
Everybody is talking about it. You have a feeling it might be fun to get up there and give it a try… Why not jump in? Low pressure and fun, this class begins with the basics of listening, saying, "Yes, And," and confidently taking risks. Class performs together at Excused Absence Night, date TBD. Meets at
ColdTowne Theater
.
$260
Sundays, 3 to 4:30 pm, January 19 – May 3
Teen
Register for Improv for the Stage
For performers with previous Improv experience ready to expand their performance skill set. Create in the moment, build stage presence, and develop strong characters. Class performs together at Excused Absence Night, date TBD. Meets at ColdTowne Theater. $260